No.212 YSS HEAT SEALER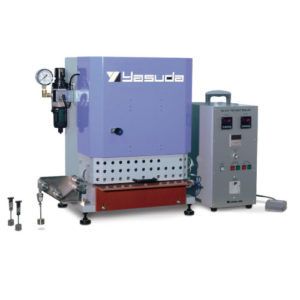 This tester is used to evaluate the thermal adhesion of cellophane tape, plastic film etc.
The operator can set the thermal adhesion condition such as temperature, pressure, and time of heat sealing.
The pressure is applied by the air cylinder to provide great operability.
Specification
Specifications are subject to change without notice.
Seal Plate
Min. W5 mm to Max. W20 mm, L300 mm
Temperature Range
Max. 300 °C
*The surface flatness will only be ensured at the specified temperature.
Pressing Method
Pneumatic Cylinder, Stroke Max. 45 mm
Pressure Gauge
Max. 0.5 MPa (Scale 0.01 MPa)
Timer
Max. 99.99 sec
Accessories
Foot Switch
Option
Safety Cover, Jig for Hot Tack, Specimen Retaining, Air Compressor
Power Source
AC 100 V, 1-Phase, 15 A, 50/60 Hz
Air Source
0.5 MPa or More
Dimensions/ Weight (Approx.)
Tester Body: W450 × D385 × H650 mm, 105 kg
Control Box: W230 × D450 × H515 mm, 15 kg
No.213 JIS HEAT SEALER
JIS Z1514, (Z1521), Z1707
This tester is used to heat seal cellophane, plastic film etc. according to the JIS standard.
The tester can provide accurate load by applying real load pressuring system.
Specification
Specifications are subject to change without notice.
Seal Plate
20 × 40 mm × 3 line or 20 × 180 × 1 line
Temperature Range
Max. 300 °C
*The surface flatness will only be ensured at the specified temperature.
Pressing Method
Weight Loading, Opening 8 mm
Load Pressure
49 to 294 kPa (0.5 to 3.0 kgf/cm2)
Timer
Max. 99.99 sec
Accessories
Foot Switch
Power Source
AC 100 V, 1-Phase, 10 A, 50/60 Hz
Dimensions/ Weight (Approx.)
W750 × D350 × H670 mm, 65 kg
Inquiry Form