No.268 UNIVERSAL IMPACT TESTER
JIS K7110、K7111-1、ASTM D256、ISO 179、180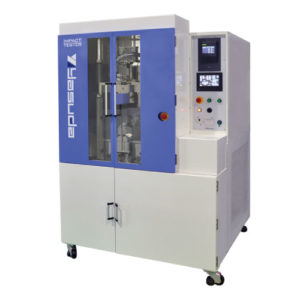 This pendulum type Charpy impact tester can automatically conduct the test cycle, and is capable of testing at extremely low temperatures (as low as -70°C).
Test conditions are inputted via touch screen and a maximum of 210 specimens can be tested continuously.
Due to the high capability of the refrigerating system, it is both time and cost efficient when compared to any other model.
Specification
Specifications are subject to change without notice.
Temperature Range
-70 °C to 80 °C (Refrigerator)
Hammer
Please consult.
Anvil
Automatic Specimen Setting Device, Rejection Device for Tested Specimens
Test Specimens
70 pcs × 3 Cassettes (Total 210 pcs)
*When Specimen size is W10 × T4 × L80 mm
Software
Windows Compatible
Option
Mini Printer (Thermal Dot Method), Specimen Size Measuring Device
Power Source
AC 200 V, 3-Phase, 30 A, 50/60 Hz
*Power consumption differs according to options.
Air Source
0.5 MPa or More
Dimensions/ Weight (Approx.)
W1,300 × D1,460 × H1,970 mm、900 kg
Inquiry Form