No.149 STRESS-CRACKING TESTER
JIS K6922-2, Z1703, ASTM D1693, ISO 1872-2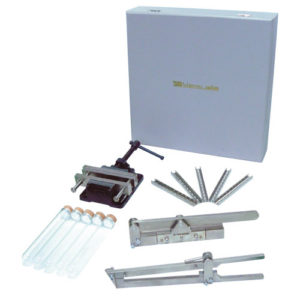 This tester is used to test the constant strain environmental stress cracking of plastic.
The testing method is to fix the notched test specimen to the test specimen holding jig and dipping it into a test tube that is filled with test liquid adjusted at 50°C.
The operator is to observe the time it required for the stress crack to arise.
Specification
Specifications are subject to change without notice.
Specimen
W13 ± 0.8 mm, L38 ± 2.5 mm, T3 mm or 2 mm
Notching Jig
Notch Depth 0.5 mm, 0.3 mm,
Notch Length 19.1 ± 0.1 mm
Bending Jig
1 set
Transfer Jig
1 set
Accessories
Test Tube (Outer φ30 × 200 mm)…5 sets each
Cork Cap…5 sets each , Aluminum Foil…5 sets each
Specimen Fixing Jig: 5 sets each
Dimensions/ Weight (Approx.)
W320 × D50 × H65 mm/ 2.5 kg (Notching Jig)
Inquiry Form