No.270 ROSS FLEXING TESTER
ASTM D1052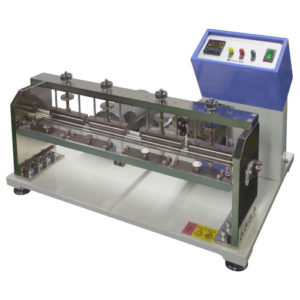 This tester is used to evaluate the durability of rubber by observing the growth of bending stress induced cracks.
The test specimen is usually taken from shoe soles.
The test specimen is to have a 2.5 mm long crack and is to be bended to a 90°angle until the crack becomes a maximum of 500 %.
Every 100 % the crack grows, the operator is to record the number of bends the test specimen has received.
The tester can also be assorted with a low temperature oven (L type).
Specification
Specifications are subject to change without notice.
Model
No.270 ROSS FLEXING TESTER
Hangings
12 Hangings (W25 mm) or
4 Hangings (W100 mm) (2 kinds)
Specimen
W25 ±1 mm, L153 mm, T6.35 ± 0.03 mm (Standard)
Flexing Angle
90° (Option: 45°, 2 Stage Type)
Flexing Speed
100 ± 5 times/min
Roller Stroke
0 to 50 mm (Adjustable)
Counter
6 Digits Preset Counter
Temperature Range
―
Accessories
Notching Tool
Power Source
AC 100 V, 1-Phase, 10 A, 50/60 Hz
Dimensions/ Weight (Approx.)
12 Hangings:
W670 × D450 × H450 mm/ 85 kg
4 Hangings:
W670 × D450 × H450 mm/ 85 kg
No.270-L ROSS FLEXING TESTER (WITH REFRIGERATING MACHINE)
ASTM D1052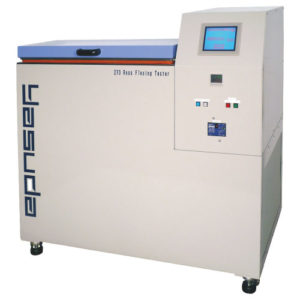 This model is equipped with a low temp.
chamber for conducting flexing tests at low temperatures.
The durability is evaluated by the number of bends it takes for the crack to grow every 100 % up to 500 %.
Specification
Specifications are subject to change without notice.
Model
No.270-L ROSS FLEXING TESTER
(WITH REFRIGERATING MACHINE)
Hangings
12 Hangings (W25 mm) or
4 Hangings (W100 mm) (2 kinds)
Specimen
W25 ±1 mm, L153 mm, T6.35 ± 0.03 mm (Standard)
Flexing Angle
90° (Option: 45°, 2 Stage Type)
Flexing Speed
100 ± 5 times/min
Roller Stroke
0 to 50 mm (Adjustable)
Counter
6 Digits Preset Counter
Temperature Range
-35 to 60 °C (Refrigerator)
Accessories
Notching Tool
Power Source
AC 200 V, 3-Phase, 30 A, 50/60 Hz
Dimensions/ Weight (Approx.)
W1,100 × D1,200 × H1,000 mm, 300 kg
Inquiry Form