No.274 PUMMEL TESTER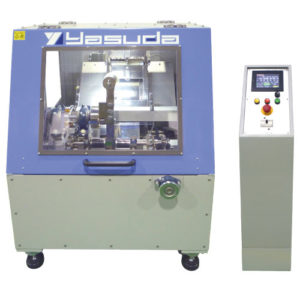 This tester is for evaluating the bondage of PVB film fragments inside safety glass composites used for automobiles.
The glass is constantly impacted by hammer while moving in an S shape.
The specimen is then evaluated according to the Pummel value by the level of exposed PVB surface.
MOVIE
Specification
Specifications are subject to change without notice.
Test Specimen
305 × 160 × 2.5 to 10 mm
Hammer
Striking Method: Hammer Striking Down Method + Assist Spring
Impact Adjustment: Spring Screw Adjust Method
Horizontal Distance
Stroke: 150 mm
Vertical Distance
Stroke: 90 mm
Testing Speed
Approx. 120 sec. for 1 pc
Other Standard Specification
Room Light, Blank Shot Prevent System (Specimen Detect Sensor)
Power Source
AC 200 V, 3-Phase, 10 A, 50/60 Hz
Dimensions/ Weight (Approx.)
Main Body: W880 × D1,100 × H1,164 mm, 620 kg
Control Box: W250 × D700 × H1,130 mm, 60 kg
Inquiry Form