No.156 MARON MECHANICAL STABILITY TESTER
JIS (K6387)、(K6392)、(K6828)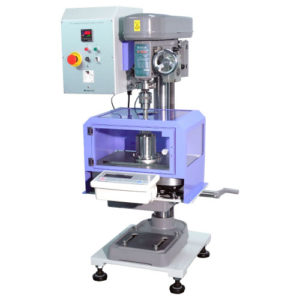 This tester is used to evaluate the mechanical stability of synthetic latex and synthetic resin emulsion.
By rotating the rotary disk at a constant speed with constant pressure to the polyethylene liner set at the bottom of the specimen container, the tester will measure the coagulum content formed within the test specimen.
No.156-AUTO MARON MECHANICAL STABILITY TESTER (AUTOMATIC)
JIS (K6387)、(K6392)、(K6828)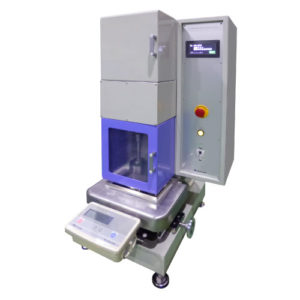 This tester is the automatic version of the MARON MECHANICAL STABILITY TESTER.
The loading system adopts the real loading system and the rotary disk will go down into the specimen container automatically.
After a certain amount of time which will be set by the operator, the rotation of the rotary disk will stop automatically.
By using the changeover switch, the loading can be done manually using the pressuring handle.
No.156 / No.156-AUTO Specification
Specifications are subject to change without notice.
Model
No.156 MARON MECHANICAL STABILITY TESTER
No.156-AUTO MARON MECHANICAL STABILITY TESTER (AUTOMATIC)
Specimen
50 ± 0.5 g
50 ± 0.5 g
Rotor Disk
φ50 mm, T13 mm
φ50 mm, T13 mm
Rotor Disk Rotation Speed
1,000 ± 20 rpm
1,000 ± 20 rpm
Load Method
Lever Loading
Dead Weight
(Motorized Weight Loading)
Load Measuring
Balance, Max. 100 kgf (Scale 0.05 kgf)
(Standard: 5 kgf, 10 kgf and 15 kgf)
Balance, Max. 100 kgf (Scale 0.05 kgf)
(Standard: 5 kgf, 10 kgf and 15 kgf)
Specimen Cup
Inner φ76 mm, H85 mm
Inner φ76 mm, H85 mm
Timer
Max. 99 hr 59 min
Max. 99 hr 59 min
Accessories
Polyethylene Liner: 10 pcs
Polyethylene Liner: 10 pcs
Option
Heat Plate, Safety Cover
Heat Plate, Safety Cover
Power Source
AC 100 V, 1-Phase, 15 A, 50/60 Hz
AC 100 V, 1-Phase, 15 A, 50/60 Hz
Dimensions/ Weight (Approx.)
W670 × D800 × H1,140 mm/ 112 kg
W550 × D750 × H1,080 mm/ 178 kg
Inquiry Form