No.196 ELECTRIC HEATING SYSTEM TEST PRESS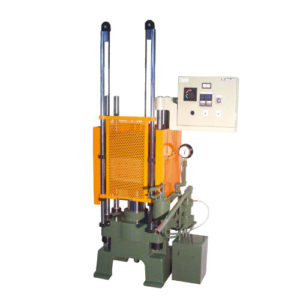 This machine is a compacting machine for plastic and rubber.
The heat platen is heated electronically and pressure is applied with a manual oil pressure pump.
The upper platen can be adjusted and fixed to the optimal position with a nut to provide great operability.
Specification
Specifications are subject to change without notice.
Platen Size
355 × 305 mm
Platen Opening
Max. 550 mm
Ram Diameter
φ150 mm
Ram Stroke
Max. 200 mm
Maximum Pressure
Max. 20.6 MPa (210 kgf/cm2)
Maximum Force
Max. 37 ton
Temperature Range
Max. 250 °C (Option: Max. 400 °C)
Option
Hydraulic Pump System, 2 Stages, Water Cooling Platen, Safety Cover
Power Source
AC 200 V, 3-Phase, 40 to 50 A, 50/60 Hz
Dimensions/ Weight (Approx.)
Manuel:W630 × D470 × H1,550 mm, 600 kg
Electric:W1,260 × D1,100 × H1,800 mm, 1,350 kg
Inquiry Form