No.145-G GEHMAN STIFFNESS TESTER OPERATION & MOTION VIDEO
No.145-G GEHMAN STIFFNESS TESTER
JIS K6261、ISO 1432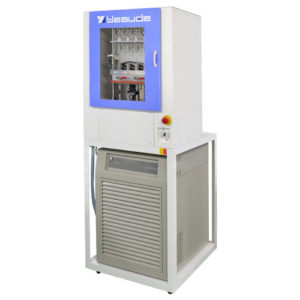 This tester is used to determine the relative stiffness characteristics of vulcanized or thermoplastic rubber.
The tester will record the torsion angle of the test specimen 10 seconds later for which has been twisted to an angle of 180 degrees.
This procedure is to be done from 23 °C to the lowest test temperature of the test, so that the temperature (T2, T5, T10, and T100) of which the modulus values are at 2, 5, 10, and 100 can be obtained from the Temp. – Angle curve.
No.145-G Specification
Specifications are subject to change without notice.
Hangings
4 Hangings
Specimen
L40.0 ± 2.5 mm, W3.0 ± 0.2 mm, T2.0 ± 0.2 mm
Torsion Wire
L: 65 ± 8 mm,
Torsional Constant:
2.81 mN⋅m/rad (Standard Wire)
0.70 m N.m/rad,11,24 m N.m/rad
Chuck Distance
25 ± 3 mm
Torsion Angle Measurement
Rotary Encoder, Detection: 0.1°
Temperature Range
-70 to 30 °C (Refrigerator & Refrigeration Medium)
Refrigertion Medium Amount
Approx.8 L
Temperature Rise
5 °C interval (Condition Controlling Time: 5 min)
Software
Windows Compatible
Accessories
Specimen Setting Jig, Specimen Cutter, Torsion Wire Jig: 1 pc each
Power Source
AC 200 V, 3-Phase, 20 A, 50/60 Hz
Dimensions/ Weight (Approx.)
W720 × D950 × H1,900 mm, 270 kg
Inquiry Form