No.307 MIT TYPE FOLDING ENDURANCE TESTER
JIS C5016, P8115, R3420, ASTM D2176, TAPPI-T511, ISO 5626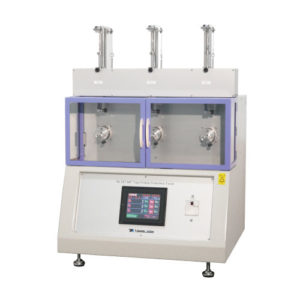 This tester is used to evaluate the folding endurance of paper, cardboard, plastic film, and flexible print circuit boards.
Applying a certain load and folding the test specimen left and right at a 135°angle at a certain speed, the operator is to count the number of times the test specimen was folded until it fractures.
The deadweight method is adopted as the loading type for this tester.
This tester is also used for evaluating the folding endurance of metallic foil such as aluminum foil used in condensers.
Specification
Specifications are subject to change without notice.
Model
No.307 MIT TYPE FOLDING ENDURANCE TESTER
Hangings
1, 3 or 5 Hangings (3 kinds)
Specimen
W15.0 ± 0.1 mm, L110 ± 5 mm
Weight Load
4.9 to 14.7 N (0.5 to 1.5 kgf)
(Dead Weight) (Standard: 9.8 N)
Folding Angle
135° ± 2°
(Option: 45°, 90°, 3 Stage Type)
Folding Speed
175 ± 10 times/min
(Option: 45 times/min, 90 times/min, 3 Stage Type)
Folding Top
R0.38 ± 0.02 mm , L19.0 ± 0.5 mm, Spacing 0.25 mm
Counter
6 Digits Preset Counter
Temperature Range
―
Option
Conduction Device (for FPC)
Power Source
AC 100 or 200 V, 1-Phase, 10 to 15 A, 50/60 Hz
Dimensions/ Weight (Approx.)
1 Hanging: W470 × D400 × H850 mm/ 31 kg
3 Hangings: W600 × D550 × H850 mm/ 67 kg
5 Hangings: W720 × D630 × H850 mm/ 79 kg
No.307-L MIT TYPE FOLDING ENDURANCE TESTER (WITH REFRIGERATING MACHINE)
JIS C5016, P8115, R3420, ASTM D2176, TAPPI-T511, ISO 5626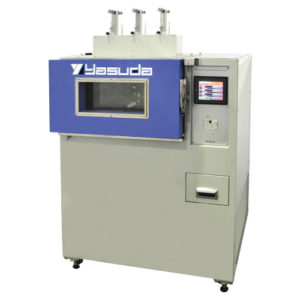 This model is equipped with a low temp. chamber for testing at low temperatures.
Specification
Specifications are subject to change without notice.
Model
No.307-L MIT TYPE FOLDING ENDURANCE TESTER (WITH REFRIGERATING MACHINE)
Hangings
1, 3 or 5 Hangings (3 kinds)
Specimen
W15.0 ± 0.1 mm, L110 ± 5 mm
Weight Load
4.9 to 14.7 N (0.5 to 1.5 kgf)
(Dead Weight) (Standard: 9.8 N)
Folding Angle
135° ± 2°
(Option: 45°, 90°, 3 Stage Type)
Folding Speed
175 ± 10 times/min
(Option: 45 times/min, 90 times/min, 3 Stage Type)
Folding Top
R0.38 ± 0.02 mm , L19.0 ± 0.5 mm, Spacing 0.25 mm
Counter
6 Digits Preset Counter
Temperature Range
-35 to 60 °C (Refrigerator)
Option
Conduction Device (for FPC)
Power Source
AC 100 or 200 V, 1-Phase, 10 to 15 A, 50/60 Hz
Dimensions/ Weight (Approx.)
1 Hanging: W470 × D400 × H850 mm/ 31 kg
3 Hangings: W600 × D550 × H850 mm/ 67 kg
5 Hangings: W720 × D630 × H850 mm/ 79 kg
Inquiry Form