No.323 GURLEY TYPE DENSOMETER
JIS L1096, P8117, ASTM D726, TAPPI-T460, ISO 5636-5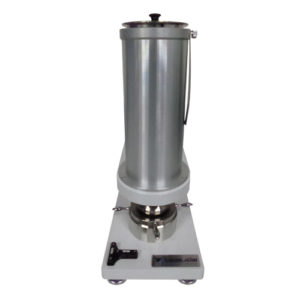 This tester is used to evaluate the air permeability of paper, cardboard, and textile.
The operator is to measure the time that a certain amount of compressed air passes through the clamped test specimen.
The user can choose between the manual type, which the time is measured by a stop-watch, and the automatic type, which the time is measured by digital timer.
Specification
Specifications are subject to change without notice.
Model
No.323 GURLEY TYPE DENSOMETER
Specimen
50 × 50 mm
Clamp
φ28.6 ± 0.1 mm (Permeation Area 642 mm2)
Outer Cylinder
Inner Diameter φ82.6 mm, H254 mm, Marker 127 mm from Bottom
Inner Cylinder
Outer Diameter φ76.2 mm, Inner Diameter φ74 mm, H254 mm, Mass 567 ± 0.5 g
Air Volume
0 to 100 ml (Scale 25 ml), 100 to 350 ml (Scale 50 ml)
Time Measuring
Manual (Stopwatch)
Accessories
Machine Oil
Option
Attachment (φ10 mm)
Power Source
―
Dimensions/ Weight (Approx.)
W150 × D230 × H420* mm/ 20 kg
*H580 mm: When Inner Cylinder is set in the test position.
No.323-AUTO GURLEY TYPE DENSOMETER (AUTOMATIC)
JIS L1096、P8117、ASTM D726、TAPPI-T460、ISO 5636-5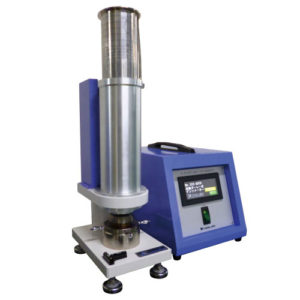 We also have an automatic model with touch panel interface which displays the impermeability (s) and ISO permeability (µm/(Pa⋅s)).
Specification
Specifications are subject to change without notice.
Model
No.323-AUTO GURLEY TYPE DENSOMETER (AUTOMATIC)
Specimen
50 × 50 mm
Clamp
φ28.6 ± 0.1 mm (Permeation Area 642 mm2)
Outer Cylinder
Inner Diameter φ82.6 mm, H254 mm, Marker 127 mm from Bottom
Inner Cylinder
Outer Diameter φ76.2 mm, Inner Diameter φ74 mm, H254 mm, Mass 567 ± 0.5 g
Air Volume
0 to 100 ml (Scale 25 ml), 100 to 350 ml (Scale 50 ml)
Time Measuring
Automatic Max. 99999.9 sec
Detection: Micro Optical Senser
Accessories
Machine Oil
Option
Attachment (φ10 mm)
Power Source
AC 100 V, 1-Phase, 3 A, 50/60 Hz
Dimensions/ Weight (Approx.)
Tester Body:
W150 × D230 × H420* mm/ 20 kg
*H580 mm: When Inner Cylinder is set in the test position.
Control panel:
W250 × D450 × H280 mm/ 8 kg
Inquiry Form