No.309 FENCHEL EXPANSION AND CONTRACTION TESTER
J.TAPPI-No.27, ISO 5635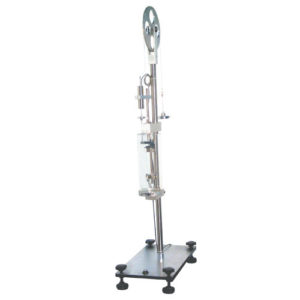 This tester is used to measure the stretching properties of paper and paper board when it is submerged in water.
After attaching the test specimen to the upper and lower Chucks and applying tensile force, the test specimen is to be submerged into water for a certain amount of time.
The stretching properties of the test specimen will be read by transducer and the measurement value will be will be shown digitally displayed.
Specification
Specifications are subject to change without notice.
Model
No.309 FENCHEL EXPANSION AND CONTRACTION TESTER

Specimen
W15 mm, L150 mm
Chuck Distance
Max. 100 mm (Pitch 5 mm)
Weight
5 g, 10 g, 20 g, 50 g: 1 pc each
Displacement Measurement
Differential Transformer:
Scale 0.01 mm, Stroke 0 to ± 10 mm,
4 Digits Digital Display
Temperature Measurement
―
Elevation Method
―
Software
―
Accessories
Glass Beaker
Power Source
AC 100 V, 1-Phase, 3 A, 50/60 Hz
Air Source
―
Dimensions/ Weight (Approx.)
Tester Body:
W250 × D300 × H1,050 mm, 30 kg
Control Box:
W400 × D300 × H150 mm, 6 kg
No.309-AUTO FENCHEL EXPANSION AND CONTRACTION TESTER (AUTOMATIC)
J.TAPPI-No.27, ISO 5635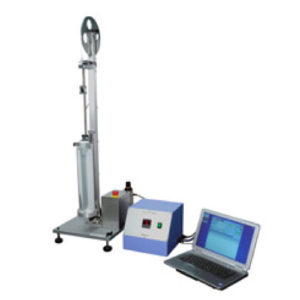 The stretching properties are measured via digital encoder, automating the test procedure.
Specification
Specifications are subject to change without notice.
Model
No.309-AUTO FENCHEL EXPANSION AND CONTRACTION TESTER (AUTOMATIC)
Specimen
W15 mm, L150 mm
Chuck Distance
Max. 100 mm (Pitch 5 mm)
Weight
5 g, 10 g, 20 g, 50 g: 1 pc each
Displacement Measuremen
Digital Encoder
Temperature Measurement
Digital Temperature Controller
Elevation Method
Air Cylinder
Software
Windows Compatible
Accessories
Plastic Beaker
Power Source
AC 100 V, 1-Phase, 3 A, 50/60 Hz
Air Source
0.5 MPa or More
Dimensions/ Weight (Approx.)
Tester Body:
W400 × D400 × H1,400 mm, 20 kg
Control Box:
W310 × D300 × H250 mm, 8.5 kg
Inquiry Form