No.315 ELMENDORF TYPE TEARING RESISTANCE TESTER
JIS K7128-2, P8116, TAPPI-T414, ISO 1974, 6383-2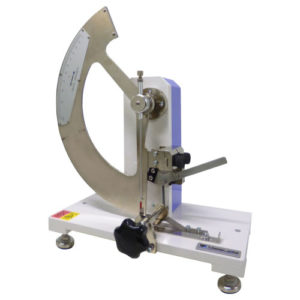 This tester is used to evaluate tearing resistance of paper, paper board and plastic film according to the Elmendorf type tearing method.
Swinging the fan shaped pendulum from a prescript height to tear the test specimen that has been cut beforehand.
The operator is to read the workload to calculate the tearing resistance.
Specification
Specifications are subject to change without notice.
Model
No.315 ELMENDORF TYPE TEARING RESISTANCE TESTER
Standard Sheet
Standard 16 sheets
(Scale 20 to 80 %)
Capacity
0 to 1,000 mN
(Scale 1 sheet/ 16 sheets)
Specimen
W63 ± 0.2 mm, L76 mm
Slit Length
20 mm (Rest 43.0 ± 0.5 mm)
Chuck
W36 mm, D15.0 ± 0.1 mm, Spacing 2.8 ± 0.3 mm
Option
―
Power Source
―
Dimensions/ Weight (Approx.)
W450 × D270 × H530 mm, 23 kg
No.315-D ELMENDORF TYPE TEARING RESISTANCE TESTER (DIGITAL)
JIS K7128-2、P8116、TAPPI-T414、ISO 1974、6383-2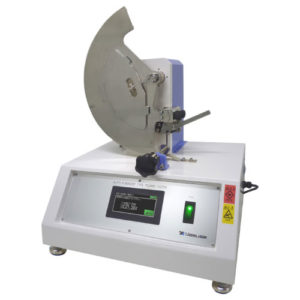 The digital type helps the operator to read the tearing resistance directly without having to calculate.
Insert the number of the amount of test specimen to the touch panel and the device will automatically calculate the average tearing resistance from that amount.
Also, the digital panel is equipped with loss energy calibration function so that pure tearing resistance of the test sample can be measured.
Specification
Specifications are subject to change without notice.
Model
No.315-D ELMENDORF TYPE TEARING RESISTANCE TESTER (DIGITAL)
Standard Sheet
Standard 16 sheets
(Scale 20 to 80 %)
Capacity
0 to 1,000 mN
(Scale 1 sheet/ 16 sheets)
Specimen
W63 ± 0.2 mm, L76 mm
Slit Length
20 mm (Rest 43.0 ± 0.5 mm)
Chuck
W36 mm, D15.0 ± 0.1 mm, Spacing 2.8 ± 0.3 mm
Option
Digital Display Ver., Air Chuck
Power Source
AC 100 V, 1-Phase, 3 A, 50/60 Hz
Dimensions/ Weight (Approx.)
W550 × D400 × H670 mm, 47 kg
Inquiry Form