No.360 CURL-SIZE TESTER
TAPPI-(T466), J.TAPPI-No.14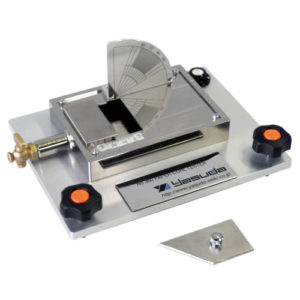 This tester is used to measure the curl size and the degree of curl of paper.
The operator is to damp one side of the paper and measure the time it curled to its maximum size.
The tester is usually used on test specimens that are applied for printing papers.
Specification
Specifications are subject to change without notice.
Specimen
W38 mm, L38 to 70 mm
Float
W0 to 25.4 mm (Adjustable), D50.8 mm
Angle Scale
30 to 60° (Scale 1°)
Accessories
Specimen Mold
Dimensions/ Weight (Approx.)
W230 × D160 × H110 mm/ 3 kg
Inquiry Form