No.409 WATER PENETRATION RESISTANCE TESTER FOR TEXTILE
JIS L1092, ISO 811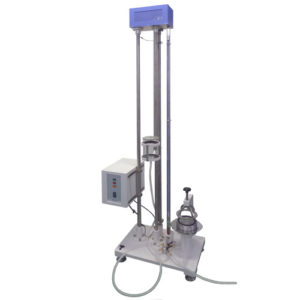 This tester is to conduct a water penetration test (hydrostatic fluid pressure method and A method, the low water pressure).
Tightening the test specimen to the clamp and raising the water level at a constant speed, the operator is to measure the water level when the water comes out from 3 places of the back side of the test specimen.
The tester can also conduct constant water pressure method and water leakage method.
Specification
Specifications are subject to change without notice.
Water Column
1 m or 1.5 m
Manometer
1,000 mmH2O or 1,500 mmH2O (Scale 1 mmH2O)
Pressing Speed
10 ± 0.5 cm/min or 60 ± 3 cm/min
Specimen
150 × 150 mm
Clamp
Inner Diameter φ113 mm (Effective Area 100 cm2)
Power Source
AC 100 V, 1-Phase, 3 A, 50/60 Hz
Dimensions/ Weight (Approx.)
1m spec:  W600 × D400 × H1,670 mm, 125 kg
Inquiry Form