No.416 CROCK METER
JIS K6404-16, K6547, L0849, (L0862), ISO 105-X12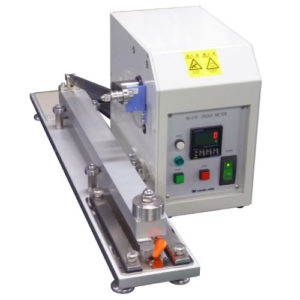 This tester is used to evaluate the color fastness of textile products, leather, rubber, and plastic against abrasion.
The operator is to place the test specimen on the flat surface and the test specimen is to be abraded with an abrading head which is attached with a white cloth.
After the test has been finished, the operator is to judge the degree of color fastness according to the gray scale.
Specification
Specifications are subject to change without notice.
Specimen
140 × 50 mm
White Cotton Cloth
50 × 50 mm
Weight Load
8.83 N (900 gf)
Abrading Head
φ16 ± 1 mm
Abrading Distance
100 mm
Abrading Speed
60 times/min
Counter
6 Digits Preset Counter
Option
Light Load Spec, Safety Cover
Power Source
AC 100 V, 1-Phase, 3 A, 50/60 Hz
Dimensions/ Weight (Approx.)
W260 × D640 × H260 mm, 16 kg
Inquiry Form