No.161 SPRING ELONGATION TESTER
JIS (C3003), C3216-3, IEC-60851-3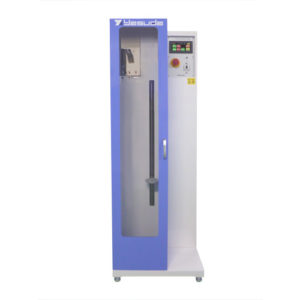 This tester is used to evaluate the softness of enamel wire according to the spring elongation method.
One end of the testing coil is to be rolled to the mandrel and the other end attached to a weight which is placed on a supporting platform.
The platform will then go down at a constant speed and when 1 minute has passed after the weight had separated from the supporting platform, the operator is to detach the weight and leave the testing coil for another 1 minute.
The length difference of the coil before and after the test is to be noted as the spring elongation value.
Specification
Specifications are subject to change without notice.
Specimen
L1.2 m, Conductor Diameter φ0.25 to φ1.6 mm
Mandrel Rotation Speed
50 rpm
Mandrel Diameter
φ2.5 to φ16 mm (Conductor Diameter φ × 10)
Weight
(Specimen Cross Section × 700) g
Holder Stroke
Max. 780 mm
Holder Speed
50 mm/s
Timer
60 sec Count
Option
Automatic Specimen Cutting Device, Safety Cover
Power Source
AC 100 V, 1-Phase, 5 A, 50/60 Hz
Dimensions/ Weight (Approx.)
W500 × D530 × H1,500 mm, 85 kg
Inquiry Form