No.215 SCRAPE TESTER
JIS (C3003), C3216-3, IEC-60851-3, IEC-60851-3, NEMA-C9.5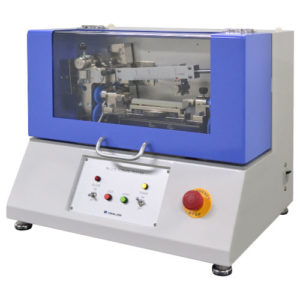 This tester is to evaluate the abrasion resistance of enamel wire.
Abrading the enamel wire with a piano wire which continuously increases the abrading load while it abrades the enamel wire, the operator is to check the load at which the conduction occurs.
By turning the test specimen, one test specimen can be tested 3 times.
Specification
Specifications are subject to change without notice.
Abrading Distance
100 mm
Abrading Speed
400 ± 40 mm/min
Weight Load Range
Initial 100 gf to Max. 3.2 kgf
Scraping Piano Wire
φ0.23 ± 0.01 mm
Specimen Rotating Angle
0°, 120°, 240°
Option
Safety Cover
Power Source
AC 100 V, 1-Phase, 5 A, 50/60 Hz
Dimensions/ Weight (Approx.)
W560 × D470 × H490 mm, 45 kg
Inquiry Form