No.210 MAGNET WIRE ABRASION TESTER
NEMA-C9.5, JASO, ISO 6722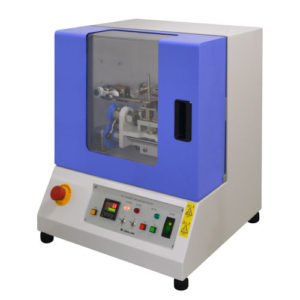 This tester is to evaluate the abrasion resistance of enamel wire according to the blade reciprocating method.
Abrading the enamel wire back and forth with constant load, the operator is to check the number of reciprocates until the conduction occurs.
By turning the test specimen, one test specimen can be tested 3 to 4 times.
※No.210-ISO6722 WIRE ABRASION TESTER
This version is compatible with specimens with a cross-section under 6 mm2.
Specification
Specifications are subject to change without notice.
Model
No.210(NEMA)
No.210-ISO6722 (JASO、ISO)
Abrading Distance
10 mm
15.5 ± 1 mm
( Displacement of Needle 20 ± 1 mm)
Abrading Speed
60 times/min
55 ± 5 times/min
Specimen Clamp
―
Distance 71 mm
Weight Load
Initial 2 N to Max. 10 N
Initial 2 N to Max. 10 N
(Standard: 7 ± 0.05 N)
Abrading Blade
φ0.4 mm
φ0.45 ± 0.01 mm (JASO)
Counter
6 Digits Preset Counter
6 Digits Preset Counter
Specimen Rotating Angle
0°, 120°, 240°
0°, 90°, 180° and 270°
Option
Safety Cover
Safety Cover
Power Source
AC 100 V, 1-Phase, 3 A, 50/60 Hz
AC 100 V, 1-Phase, 3 A, 50/60 Hz
Dimensions/ Weight (Approx.)
W480 × D447 × H600 mm, 33 kg
W480 × D447 × H600 mm, 33 kg
Inquiry Form