No.173-S CUT-THROUGH TESTER (FOR ENAMELED WIRE)
JIS C3216-6: 2011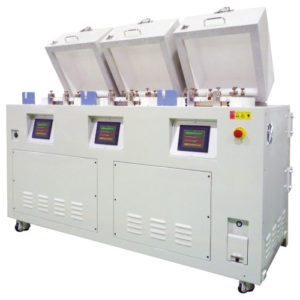 This tester is used to measure the softening point of enameled wire according to the cross over method (method A).
The operator is to bisect 2 straight test specimens over a metal block that is set at a desired test temperature and to load a ceramic piston on to the crossing point.
The test is to be evaluated by whether the test specimen has softening short circuit after 2 minutes of test voltage is added.
Specification
Specifications are subject to change without notice.
Specimen
Round wire(Crossing Method),Flat wire(Steel Ball Method)
Hangings
Max. 12 Hangings(4 Hangings × 3ch)
Temperature Range
Max.500℃
Heating Rate
2℃/min
Test Load
Initial Load 100g to Max. Load 2,600g
Transformer
Voltage: 100 ± 10V, Short Circuit Current: 5 ± 1 mA (Max. Ampair: 50 mA)
Data Processing
Desktop PC (OS: Windows 10) PC Rack,Printer, Software included
Safety Device
Leakage Breaker, Overheat Detection, insulated Safety Cover (Pinch Prevention)
Power Source
Main Body: AC 200 V, 3-Phase, 50 A, 50/60 Hz , For PC: AC 100 V, 1-Phase, 15 A or less, 50/60 Hz
Dimensions/ Weight (Approx.)
W1, 800 × D750 × H2,000 mm/ 550kg
Inquiry Form