No.124-PTL CABLE IMPACT TESTER
JIS C3660-1-4, C8282-1, IEC-60811-1-4, 60884-1, JIS C6821, C6851, C6861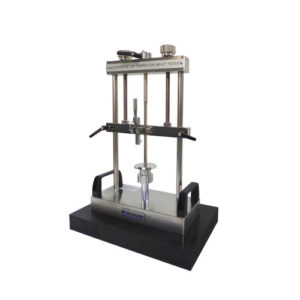 This tester is used to conduct impact tests on insulated or sheathed wires in a low temperature chamber.
It is also used to conduct the test on electrical parts such as a plug or socket. The sample is to be impacted by the tester in the low temperature chamber.
The sample will be visually checked whether there are cracks on the insulated/ sheathed wire.
Specification
Specifications are subject to change without notice.
Weight
Select from 100 g, 200 g, 300 g, 400 g, 500 g, 600 g, 750 g, 1,000 g, 1,250 g, 1,500 g, 2,000 g
Impactor
Impact Surface R300 mm, φ20 mm, 100 g
Falling Height
100 mm
Release Mechanism
Lever Release
Dimensions/ Weight (Approx.)
W280 × D120 × H460 mm, 16 kg
Inquiry Form